Two more Gmail invites!
Google must love me or something.
Here's the deal. If you want one leave a comment below. If you know me it's all yours. If you don't know me it's all yours in exchange for a mix CD. Deal?
...and, just in case you forgot the line-up or something...
TONIGHT
at
DOUBLE DOOR
The Tankboy Birthday Spectacular

with

The Bomb
Cisco Pike
Woolworthy
The Ladies & Gentlemen
DJ Photogal Vs. DJ Tankboy

Doors and DJs at 8pm
Bands at 9pm
$7 cover/$5 with discount coupon linked below

Clicky here fer discount ticket!
NOW it's yer berfday!
I have lots of news, stories, gossip and grousing but you'll just have to wait until either a) tonight at the show or b) tomorrow after I wake up and drag poor Photogal to see
Spiderman 2
with me!
Speaking of Photogal, she did a little mini-DJ set last night that she and
Rudy
planned ahead of time to get her in on both nights of the birthday celebrations. Yippee!
And now for your disturbing image of the day.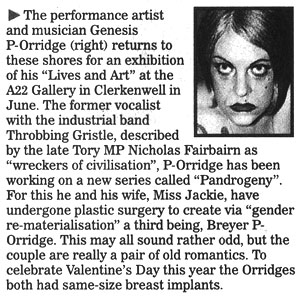 I love
Psychic TV
and hope they play Chicago but even I've gotta say this is probably the weirdest thing
Genesis
has done. Oh well, it seems to be in the spirit of true love and romance so I can't say anyhting negative about it.
Not to Photogal:
Whilst I am an old softy and true romantic, I am not getting breast implants to match yours, don't worry.